Written by Stu Cooper
Unless you've been living under a rock, you've probably heard about the release of "GODZILLA" this past week. I have already seen the film and I will be posting my full review later this weekend. To celebrate the release I've been ranking the Top 5 Godzilla villains of all-time. It's been a fun week and I've enjoyed researching these insane creatures. I knew from the start who my number one spot would go to. It won't be a shocker to most Godzilla fans. This monster is considered by most to be Godzilla's true rival. The monster I consider the number one Godzilla villain of all-time is...GHIDORAH!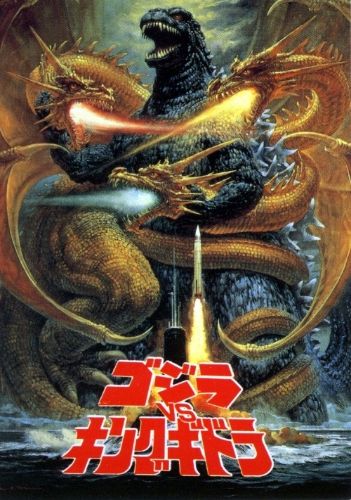 Ghidorah, sometimes referred to as Ghidrah, is a very iconic monster in the world of TOHO and Kaijus. The creature itself is based on the famous mythological figure, the three headed hydra. The creature has three heads, two tails, and no arms. What it lacks in arm strength it makes up for in fire power. Each head can fire an intense lightning like blast. Ghidorah made it's debut in the 1964 film "Ghidorah, The Three Headed Monster" which also served as the fifth Godzilla film. This film actually marked the first occasion in the Godzilla series in which Godzilla was the hero and not the villain. Ghidorah comes to earth and causes destruction, only to be defeated by Godzilla,Rodan AND Mothra. One funny thing about Ghidorah is that he rarely gets a fair fight. It's often three on one or two on one. In the "Destroy All Monsters" film Ghidorah gets beaten to death by nearly every TOHO creation at once. The thing is, he always comes back. Nothing can keep this monster down.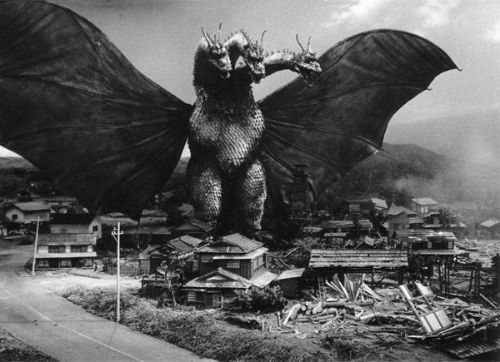 As far as Ghidorah's story, there isn't much history. All we really know is that the creature is from space and is often under the influence or control of some alien race. My personal favorite appearance of Ghidorah is in "Godzilla vs. Monster Zero" otherwise known as "Invasion of the Astro Monster". In that film Ghidorah is quite powerful and is controlled by a pretty entertaining group of aliens. The aliens actually trick the humans quite easily and are free to use Godzilla as they please. It's a very goofy plot but makes for a fun film. That film was always featured on TNT's "Monstervision" with Joe Bob Briggs. But that show is another article for another day.
In the later incarnations of the Godzilla franchise we again see Ghidorah become a main nemesis. In the film "Godzilla vs. King Ghidorah" we actually see Ghidorah get a "Mecha" upgrade and become even more badass and dangerous. That film is considered a favorite among many hardcore Godzilla fans because of it's crazy story, intense action, and cool monsters. I highly recommend checking that film out if you're looking to experience Godzilla at it's best. Ghidorah appeared in another film called "All Out Monsters Attack" and that one is also quite intense and cinematic. Ghidorah is portrayed as some type of God and is actually a protagonist! It's an odd departure. Ghidorah's final Godzilla film appearance would be in the appropriately titled "Final Wars". Planet X once again attempts to takeover the earth, except this time they use every Godzilla villain at once. The final monster is Ghidorah, who transforms into a creature called "Monster X". They sure do love their X's. I wish they'd take some of mine into outer space!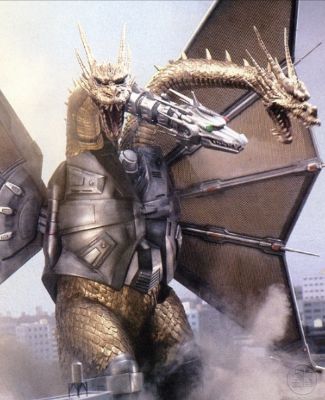 You really can't go wrong with any of the Ghidorah appearances. Ghidorah is also a friend of the number 5 entry in the countdown, Gigan. The two of them teamed up in "Godzilla vs. Gigan". Ghidorah also appeared in the "Zone Fighter" tv show. The Rebirth of Mothra films also feature many references to Ghidorah, and even two incarnations of the creature. Ghidorah is also often a main villain in several Godzilla video games, namely the NES and SNES games. Maintaining the idea that Ghidorah is Godzilla's main rival. It's safe to say he is one of the more popular TOHO villains.
The decision to rank Ghidorah at number one was due to his power, relentless pursuit of Godzilla, and overall intimidation factor. This creature is considered a frightening figure in mythology for a reason! The three headed hydra has been scaring human beings for generations, so it's naturally going to be a competitor in the monster arena. If we are lucky we might see a creature of this magnitude in future Godzilla films.
It's been a fun countdown and I think we've only really touched the tip of the Godzilla universe. I encourage you all to explore these films and the mythos behind them. Some of them are campy, some of them are symbolic, and some of them are the 1998 garbage pile starring Matthew Broderick. I will return with my full review of the 2014 Godzilla!