Written by Stu Cooper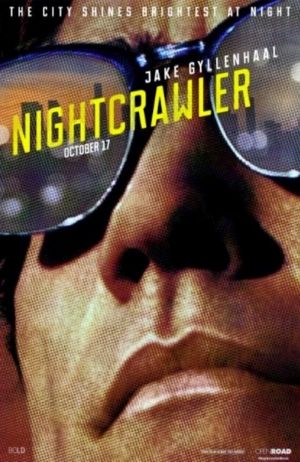 The last film I had a chance to see in theaters was a little gem called "Nightcrawler" starring Jake Gyllenhaal, Rene Russo, Riz Ahmed, and Bill Paxton. The film was written and directed by Dan Gilroy. Gilroy had previously worked on Real Steel, The Fall, The Bourne franchise and many other pictures. The film made it's debut at the Toronto Film Festival earlier this year but premiered nationally on Halloween Day. The Halloween day release would prove appropriate for this crime thriller, but more on that later. The film just left my local theater but if you have a discount theater or Alamo Drafthouse theater you may still be able to catch it. The film proved to be a character departure for the clean cut Gyllenhaal. It would prove to be one of his most bizzare, and memorable roles.
"Nightcrawler" tells the story of a lonely psychopath who is looking for some direction in life. Louis Bloom, played by Jake Gyllenhaal, is a bizarre unhinged introvert who is desperately searching for a purpose. He steals fence chain and mugs people to get by, but he is clearly searching for something more. Something that could prove more profitable. After being rejected when trying to get a conventional job, it's not until witnessing a car accident that Bloom gets his idea. Bloom witnesses a car accident and as the police try to save the victim from the flaming vehicle, a cameraman looms over the accident. The man films the victim screaming and almost burning up, without a bit of remorse. This gets the of attention of Bloom who begins to question the man. He finds out the cameraman (played by Paxton) is what the journalism world refers to as a "Nightcrawler". He listens to police scanners and tries to arrive at incidents in time to film the gory outcomes. It's a rather despicable job by most peoples standards, but Bloom is intrigued.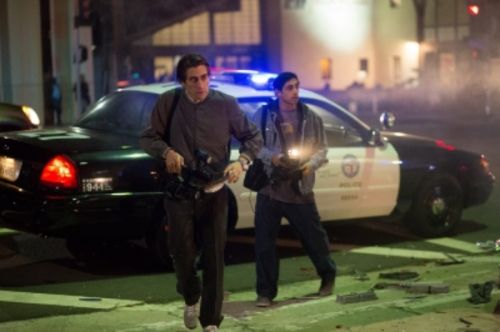 After being inspired by the local crew, Bloom sets out to start his own "Nightcrawler" operation. He starts off stealing a bicycle and trading it in for a camera. He attempts to film some local accidents, but ultimately fails due to inexperience and poor equipment. It's not until Bloom captures a rather gruesome death that he gains momentum. He sells the gruesome footage to a local news producer, played by Rene Russo. Russo encourages him to bring in more footage like that to get more money. This leads Bloom down a dangerous path of a bizarre nature. Bloom progressively evolves into an even bigger psychopath who has a fancy for filming the dead. Like all psychopaths Bloom finds a way to be charismatic and uses that to get what he wants. Bloom hires a helper named Rick who he immediately exploits. Rick is down on his luck and basically homeless, so he is easily manipulated.
After continuing to film gruesome events, Bloom's stock begins to rise. Bloom upgrades his equipment and continues to up the ante. Bloom blurs the lines of morality and journalism with every thing he films. The news producer also continues to encourage him, despite knowing the sadistic nature of what she's paying for. There is another producer who objects to the whole thing, but he doesn't have any pull and immediately gets shut down. A massive real life commentary on how news and professional journalism works. It brings to light a dark side of the media that people don't like to think about.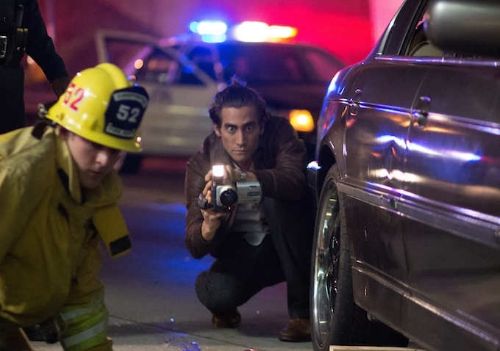 With his increasing popularity Bloom turns into an egotistical monster. It's quite the sight to behold. There is some amazing monologues from Gyllanhaal. The interactions between Gyllenhaal and Russo are chilling. There is also a moment when Bloom stares at himself in the mirror and shatters it in frustration. Saying that his character is unhinged is the understatement of the year. As with most movie psychos, this makes for great cinema. It actually reminds me a lot of Robin Williams in "One Hour Photo", mixed with Christian Bale in "American Psycho".
I was pretty underwhelmed with Bill Paxton's role in the film but I was very impressed with Riz Ahmed. Bloom's assistant Rick was a pretty likable character, and you could see how someone in his situation could be manipulated by someone like Bloom. You can't help but root for the guy to get out of the situation before he is corrupted. Russo plays the heartless News Producer very well. There is some great stuff between her and Gyllanhaal, highlighted by a disturbing sexual situation that I won't spoil. Overall the cast works together smoothly, but it is definitely the Jake Gyllenhaal show!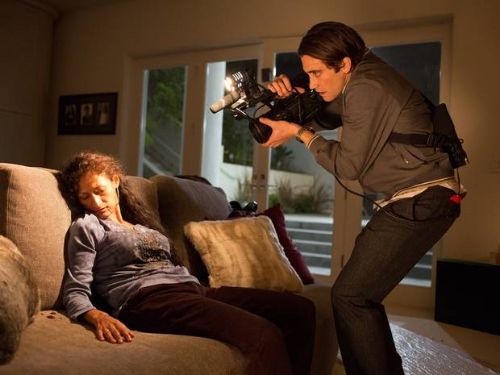 The film says a lot about the current state of journalism, and that's the scariest thing about it. It's no shock to anyone who watches FoxNews,CNN,Access Hollywood, E! News, local news, etc. that sex and violence is what sells. In this case, it focuses on the violence. It's all about the saddest thing that happened that day. In some cases the news actually exploits death and unfortunate events. People get paid thousands of dollars to report and film this kind of thing. There is also something to be said for the growing popularity in the past decade of paparazzi. Whether it's the death of Princess Diana or the idea that someone like Kim Kardashian is famous enough that people flock to her while she is grocery shopping. The Bloom character sees all of this, and sees dollar signs. He is able to make a cold separation and rake in the dough. That is absolutely psychopathic, but totally realistic. I wouldn't be surprised if many journalists are equally as twisted. That's what makes this film particularly scary and effective.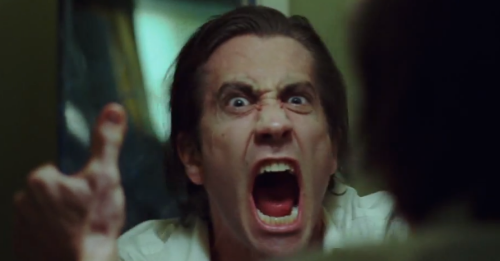 The cinematography in the film is quite impressive. It displays the lonesome ambient tone of the film that fits Bloom's character. You also get a sense of that hip "DRIVE" feeling anytime Gyllanhaal is out driving at night. There is some great driving cam footage with some impressive car mount cameras. I remember noting to the person I went with that some of the car shots had to be very difficult to get. The camera view is a switch between first person POV to normal style, which can be a bit jarring. That style proves effective in the last act of the film when there is a gigantic car chase. It feels like a rollercoaster at some points.
Lastly I'd like to talk about Gyllenhaal's performance. Gyllenhaal brought a new kind of character to the table, at least for him. He often plays the hero or the protagonist, so it was cool to see him as a villain. Gyllenhaal also lost 30 pounds for this role, just to look extra creepy. Gyllanhaal also reportedly shadowed real life Night Crawlers in preparation for the role. He goes the extra mile to fulfill the role and it shows. He plays the perfect long gangly creeper. If anything I was left wanting to see MORE of this character and his story. The ending of the film is quite up in the air, and leaves you wanting more. I would suggest everybody check this one out, and see for yourself. "Nightcrawler" was a excellent film and I would highly recommend it.